Posted by Conrad Hubbard in : The Chip , 3 comments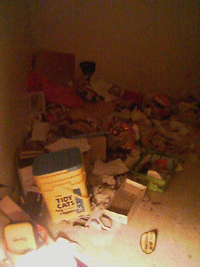 Today, I came home after a business trip to our sister-company in Iceland, CCP. I was tired and frazzled, worn down by jetlag and hard travel. Yet, I was looking forward to coming home, and being with my loving family again.
After a long international flight, including a U.S. customs department network-crash elongated layover in Boston, I finally hit the ground in Atlanta, and turned on my cell phone. As I squeezed down the aisle of our plane, a terrifying message greeted me. Apparently, my wife left (this very day), and took her kids with her to her mother's. Instead of being picked up by my beautiful wife, I was to be picked up by a mutual friend with bad news. Surprise!
Even in the airport, tears filled my eyes, and all of my coworkers wanted to know what was wrong. They had overheard me, as I immediately called my wife to see what was going on… hoping to get some sort of better details, that maybe things weren't as bad as they sounded. Alas, they were exactly as bad as I feared, and worse. I walked through the airport stunned, waited in pain for my luggage, sat in misery on our shuttle to the office, and greeted my friend Mario with sadness when he arrived to pick me up.
I returned to my home, no longer triumphantly having finished a long trip to join the sister-company of the job where I earned money to support my family, but crushed by the impending tragedy of it all. When I got home things were even worse than I imagined they might be.
My house had been trashed. Things were overturned everywhere, and empty food containers were thrown carelessly in a haphazard pile against the dining room wall. It didn't seem so much that anyone had necessarily "destroyed" my house, but that they had taken what they wanted and casually cast the rest aside. Huge chunks of my book collection were gone, as were all of the china dishes people had bought us for wedding presents, and scores of other things which came as nasty surprises, one after the other.
The wreckage of my house makes me question the veracity of the "Dear Conrad" letter, which proclaims that we can work things out. I hope it is true, but how can I work things out with somebody who has done this? I love her, but surely nobody who loved me would do this?