Posted by Conrad Hubbard in : The Chip , 1 comment so far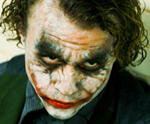 Thanks to a White Wolf company outing, I saw the new The Dark Knight movie at 3:45 PM Friday, July 18th. Seriously, I am sure that virtually everywhere you read on the internet people are praising it. I can only add my praise to the mix. Read the reviews if for some reason you are a doubter, but know that I think it is a damn good movie. The only (trivial) detail that bugged me was the suit of clothes that "Twoface" was wearing, because it just seemed too soon for him to have adopted such an outfit.
Heath Ledger's performance as the Joker was particularly awesome. I have been predicting, to friends, that Heath would be the Brandon Lee of this generation. After watching him in action, though, I have to say that I think he is simply a better actor than Lee. Nonetheless, for me it was similarly eerie to watch him so soon. Alas, I was disappointed that the movie and its credits didn't contain any sort of memorial to Heath. I waited all the way to the very end of the credits, hoping to see such a thing…
(The image of Heath Ledger is copyright Warner Brothers, and presented here only to accompany a review.)
Posted by Conrad Hubbard in : The Chip , add a comment
For those paying reasonably close attention to the nightly news, my blog surely isn't anything resembling new news. However, I really found the new rate pretty scary. Carried across millions of people in America, this means that there are an awful lot of people losing their homes. If the statistics here are correct, where 3 per 1000 equals nearly 250,000 foreclosures, then we have now hit 1/2-million foreclosures and counting. Ugh.